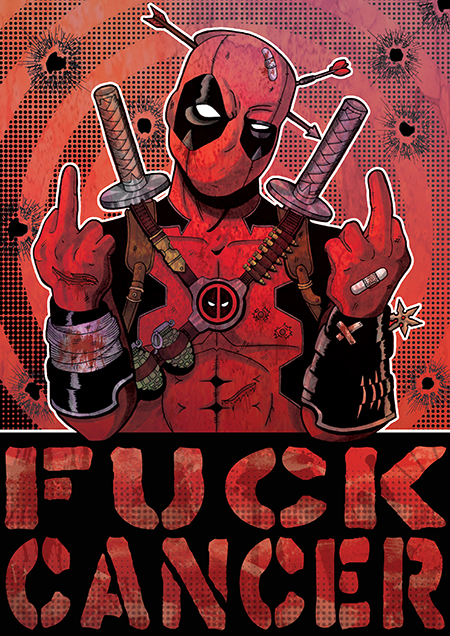 F**K Cancer Deadpool Fan Print
---
Date Created: February, 2016
Materials: Uni-Pin Fineliners, Copic Ciao Markers & Photoshop CS6
I drew this shortly after having seen the new Deadpool movie as a print for Oxford Comic Con. Cancer is something which has effected my family considerably over the years and already taken so many amazing, talented people from us this year. I thought that the best way to use the Deadpool 'band wagon' as it were, would to be to raise money for charity. So, all profits from the sale of this print at conventions and my online store are donated directly to Cancer Research UK at the end of each month.
If you would like to purchase a copy of the print, please feel free to check out my online store here.
Unfortunately, there are no plans to make a censored version of this print. This is mostly due to the fact that Deadpool would never censor himself, but also I think it would take away from the message – because, seriously, FUCK CANCER! You are more than welcome to cover the letters in any way that would make it more acceptable to friends, family, or to put up in the work place. A Cancer Research UK Charity worker has actually bought the print to hang up in her friend's ward and has apparently put a CRUK sticker over the 'U'. I could not think of a better way to censor it.
If you would like to donate to Cancer Research UK, please check out their website. Alternatively, you can visit and donate to one of the many other Cancer charities out there who I am sure would be most grateful for your support.
---